Fourth Hole-In-One in Ultimate 1 Tournament
Wind, rain, sun, and a hole-in-one. All were factors in the 17th Annual Ultimate 1 Tournament held at the Wynyard Golf Club on Saturday, August 9. 176 golfers all set out with the goal of carding a hole-in-one on one of the 18 par threes featured on the course. Serving as the biggest fundraiser for the club, the Ultimate 1 Tournament is the largest tournament the club hosts.
This event takes organization and community support to be a success. Community businesses generously sponsor hole-in-one prizes ranging from $10,000-$30,000 as well as closest to the pin prizes for each hole. Golf club members and community members volunteer their time to help the clubhouse staff prepare for the influx of golfers by loading coolers and making sandwiches. Volunteers also give their time to spot on each hole to meet insurance requirements. Co-op Food Store prepared and donated bagged lunches to make transitioning from golfing to spotting or spotting to golfing easier.
After going 4 years since the last hole-in-one, the excitement by organizers, participants and volunteers was high when word spread that Denton McGregor broke that streak on Hole 11. McGregor won a $25,000 Mutual Fund sponsored by Discovery Financial.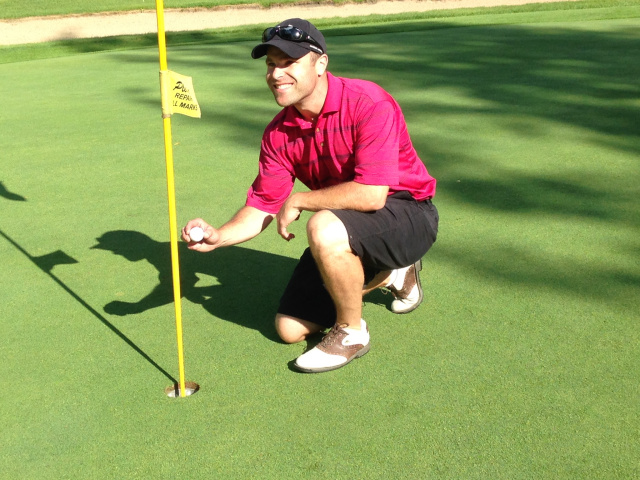 Hole-in-One Sponsors were as follows:
Hole 1 – APL Insurance
Hole 2 – Big Quill Resources
Hole 3 – Home Building Centre
Hole 4 – Wynyard Hotel
Hole 5 – Midway Ambulance
Hole 6 – Wynyard Golf Club
Hole 7 – Broad Grains Inc.
Hole 8 – Agrium Vanscoy Potash Operations
Hole 9 – BG Prairie Distributors
Hole 10 – Wynyard Advance/Foam Lake Review/Sun Life Financial
Hole 11 – Discovery Financial – Won by Denton McGregor
Hole 12 – CTS Trucking
Hole 13 – Quill Plains Buick
Hole 14 – Wynyard Co-op
Hole 15 – Blackjack's Collision & Auto Sales
Hole 16 – United Sales
Hole 17 – Maple Farm Equipment
Hole 18 – Subway
Closest to the pin sponsors and winners were as follows:
Hole 1 – EJC Dudley – Greg Fedusiak
Hole 2 – Harold's Furniture – Dale Gudmundson
Hole 3 – Cole Kachur – Scotia Mcleod – Dylan Bentz
Hole 4 – Straker Electric – Joe Fischl
Hole 5 – 24/7 Restaurant & Inn – Kevin Sparks
Hole 6 – Cornerstone Credit Union – Kevin Simpson
Hole 7 – Gutter King Eavestroughing – John McCoshen
Hole 8 – Wynyard Golf Club – Tyler Pisiak
Hole 9 – Highway Service – Tyler Pisiak
Hole 10 – Prairie Horizon Electric – Ethan Klebeck
Hole 11 – Wynyard Electric – Tessa Jordan
Hole 12 – Hood's Detail – Jim Anderson
Hole 13 – Interior Décor – Kevin Karakochuk
Hole 14 – NAPA Auto Parts – Jason Bartoshewski
Hole 15 – Townsend's Drugs – Greg Jordan
Hole 16 – Finnstar Video Services – Len Harasen
Hole 17 – Wynyard Pharmacy – Kevin Hitchings
Hole 18 – Wynyard Technologies – Vic Cheropita
Jim Anderson's shot on hole 12, which stopped nine inches from the hole, was the closest shot fired besides McGregor's hole-in-one.
On top of hole-in-one and closest to the pin prizes, there was also a longest putt of the day sponsored by Klebeck Law Office of $250 cash. To win this prize, Jeff Jones sunk a 59 foot putt on hole 9. The ladies' bonus hole was sponsored by Ferraton Law Office and Sylvia Broad was the winner of $250. The men's bonus hole was sponsored by Bolt Seed Farms and John McCoshen won $250.
Besides playing for hole-in-one and closest to the pin prizes, teams were vying for prize money for the top three finishers. Minus 6 was a popular score this year and three teams tied for first place and split all of the prize money.
Team Darcy Doidge – made up of Darcy Doidge, Bob Bilawchuk, Norm Krysa and Darren Stolz
Team Fries and Gravy – made up of Dale Gudmundson, Rob Pollen, Cory Babey, and Don Johnston
Team Cliff Trombley – made up of Cliff Trombley, Tyler Pisiak, Joe Fischl and Bob LePain
After golf, supper and prizes were finished, Graham Melsted organized a voluntary chip-off. All shots were taken from around 100 yards and it was an elimination process, miss the green and the player was out. Alana Melsted battled with Brad Smith in the dying light to capture first place. Cory Babey defeated the hole-in-one maker Denton McGregor for 3rd place.
While the Ultimate 1 brings the biggest tournament of the year to a close, there is still a lot of opportunity to participate in Wynyard Golf Club events. On Saturday, August 16th the Wynyard Monarchs are hosting a four ball best ball fundraising tournament at WGC. On Monday, August 18th is the Senior tournament. Sunday, August 24th is the APL Ladies' Open, which is a two ball best ball tournament. WGC tournaments wind up with the Pitzel and Hunter 2 Ball Open on September 6th and 7th. Contact the clubhouse at 306-554-2154 for more information on any of these tournaments.